Repair Your Smile with a Tooth-Colored Filling
Cavities can not only affect the form and function of your smile, but they can cause more widespread damage if left untreated. According to the National Institute of Dental and Craniofacial Research, 92 percent of adults will develop a cavity at some point in their lifetime. To address dental decay, Dr. Brett Helton offers white fillings at their practice in Columbus, GA. Using a color-matched composite resin, our team can restore the strength and integrity of your smile.
Do You Have a Cavity?
In the beginning stages of a cavity, patients often present with no noticeable symptoms. As such, it is critical to visit your dentist for regular checkups to ensure your teeth remain healthy. As the extent of decay progresses, you may experience symptoms such as:
Toothache or pain when you bite down
Sensitivity
Dental staining on the surface of your tooth
Holes in the surface of your teeth
To determine if you have a cavity, your doctor can carefully examine your teeth and take digital x-rays for a more comprehensive image of your smile.
Process for Receiving a Composite Filling
If your cavity is treatable with a filling, we can begin by removing compromised tissue and cleaning the tooth. We can then select a shade of composite resin that closely resembles that of your natural teeth. Once we are satisfied with the color of the material, we can apply it in layers. We can then use a special ultraviolet light to cure the material in place. The next step is to ensure that the filling does not disrupt your bite in any way. If necessary, we can trim the composite resin before polishing your tooth.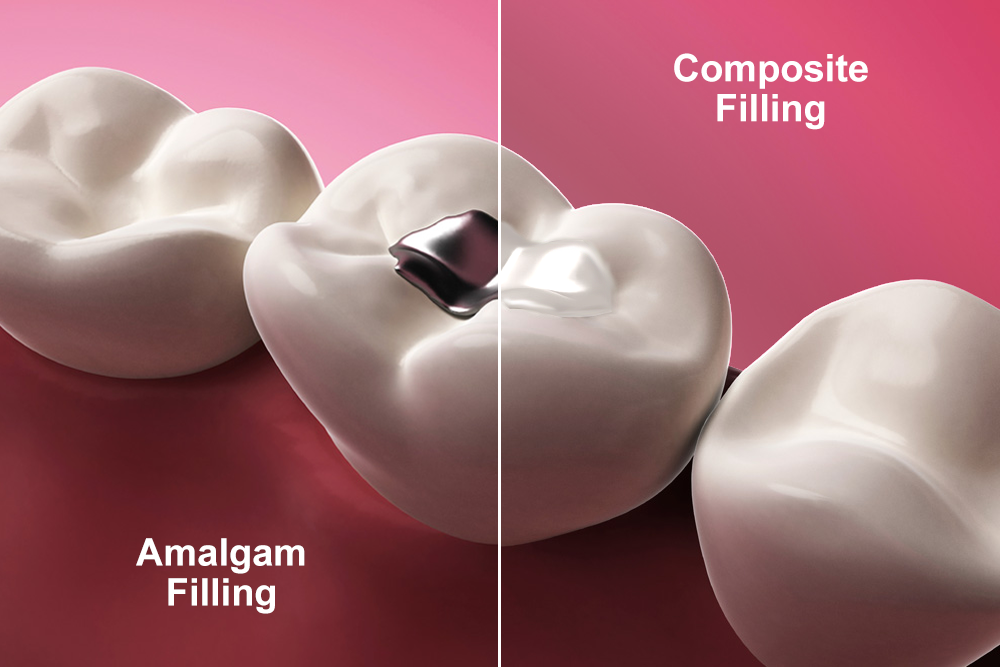 Amalgam vs. Tooth-Colored Fillings
Composite fillings are an increasingly popular treatment option because they offer patients the same restorative benefits as traditional fillings with superior aesthetics. In addition, tooth-colored material:
Contains no mercury: Traditional amalgam fillings contain mercury, whereas composite fillings are comprised of acrylic resin and powdered glass filler.
Maintains consistent shape and size: Traditional amalgam fillings expand in response to heat, increasing the pressure on the tooth and the risk of fractures. In contrast, composite resin does change with temperature fluctuations.
Requires less invasive treatment: In order to fit a traditional feeling, your dentist has to remove a larger amount of your existing tooth structure than they would in the case of a composite filling. As a result, patients can preserve more of their natural tooth with composite resin material.
Is highly durable: Composite resin can help strengthen the structure of a compromised tooth. The resin bonds to the surrounding tissue and can help provide additional support for a tooth weakened by decay.
Composite resin fillings are not only designed to look natural, but feel natural. After restoring your tooth, you can once again eat and smile with confidence.
Schedule a Consultation
Dr. Helton is committed to providing long-lasting, functional restorations to their patients. If you are suffering from dental sensitivity or believe you have a cavity, we encourage you to contact our office as soon as possible to schedule a consultation. You can call us at (706) 563-3225 or send us a message online.