Restore Your Smile with Same-Day Crowns
If you have a chipped, broken, or decayed tooth, a dental crown may be able to repair your smile. While traditional dental crowns are a trusted solution, typically, patients must wait weeks to complete their treatment. In addition to traditional restorations, Dr. Brett Helton offers convenient same-day crowns. We have invested in the latest technology at our Columbus, GA, office, including CEREC (Chairside Economical Restoration of Esthetic Ceramics), which allows us to create beautiful and durable crowns on-site.
Thanks to CEREC technology, a natural-looking custom crown can be provided to you in a single appointment.
Is a Same-Day Crown Right for You?
If you are suffering from a weakened, worn, or missing tooth, a dental crown can be placed to provide structural support and protection. Combined with a dental implant, a crown can completely replace a lost tooth. Crowns are also provided following root canal therapy. Our same-day crowns are all-ceramic which provides exceptional aesthetics and discreet restoration. While this material works for many patients, it may not offer the durability and strength required in certain circumstances. Patients who suffer from temporomandibular joint (TMJ) disorder, for example, which causes clenching and teeth grinding, may not be good candidates for a same-day crown. However, we can typically accommodate these types of cases with a traditional crown.
What is CEREC?
We understand that many patients have demanding schedules that result in delayed treatment or trouble planning dental care. To better meet the needs of our patients, we have integrated advanced solutions including CEREC, a CAD/CAM (computer-aided design/computer-aided manufacturing) system that allows our doctors to create ceramic dental crowns in a single visit. This advanced system is utilized to increase efficiency throughout the entire treatment process.
Benefits of Same-Day Dental Crowns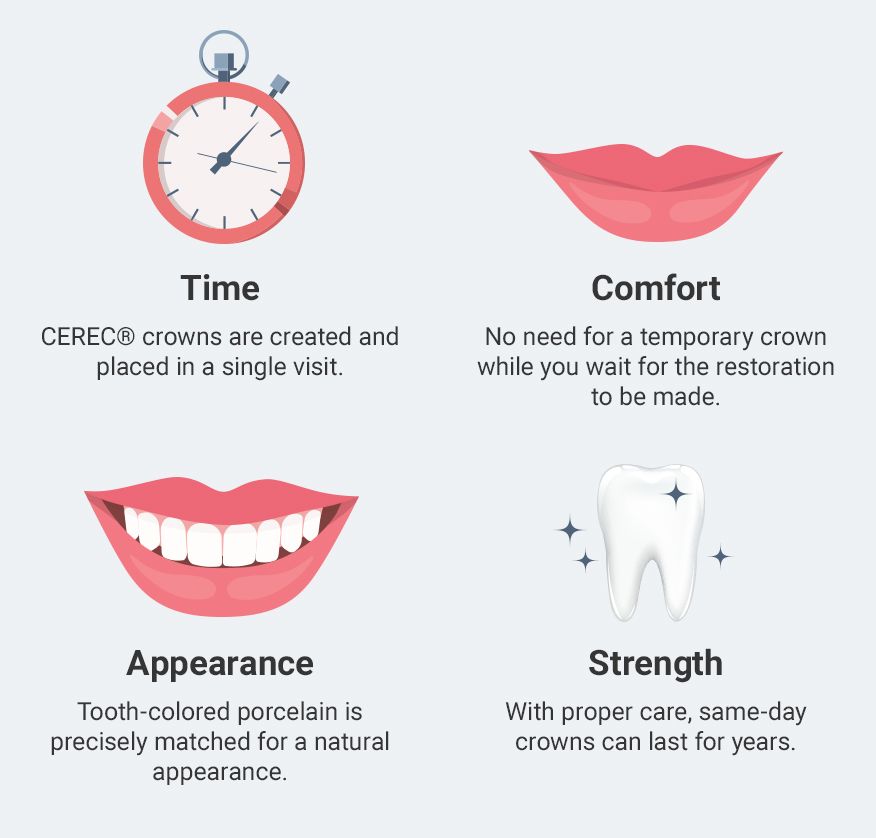 CEREC crowns give you the benefits of traditional dental crowns in a fraction of the time that traditional crowns require.
Creating Your Same-Day Crown
A local anesthetic will first be administered to the area to ensure your comfort. To begin the procedure, Dr. Helton will prepare your tooth so that the dental crown will look natural and not affect your bite. Your dentist will then take digital impressions using the CEREC machine.
Our same-day crowns are all-ceramic, which provides exceptional aesthetics and discreet restoration.
These highly accurate images will be used during the design phase to create a comfortable, precisely fitting dental crown. To ensure that your restoration blends seamlessly into the rest of your smile, the dentist will color-match the ceramic to the surrounding teeth. The CEREC milling system will then be used to manufacture your crown from a small block of dental porcelain. Once complete, your doctor will check the fit of your restoration. After any necessary adjustments have been made, the crown will be bonded securely in place using a specialized dental cement. Following your visit, the crown can be cared for just like your natural teeth.
Crowns versus Other Restorative Treatments
There are many different ways to repair a compromised tooth. The right solution for you depends primarily upon the extent of damage. In every case, you can depend on us to recommend the most conservative option.
Fillings are used to replace a relatively small amount of decayed dental tissue. If a significant amount of tissue needs to be restored, a dental crown may be a better option.
Inlays and onlays are porcelain restorations that can replace more tissue than a filling, but not as much tissue as a dental crown. Inlays are typically used to replace the tissue on the chewing surface of a molar. An onlay is used to replace part of the chewing surface as well as one or more cusps (the pointed outer edges of the chewing surface). Again, if you have suffered damage that a filling, inlay, or onlay cannot adequately address, a crown is probably a better option.
There are many different ways to repair a compromised tooth. In every case, you can depend on us to recommend the most conservative option.
The Treatment Process for an Implant-Supported Crown
If you have lost a single tooth, we can replace it using a crown attached to a dental implant. Our doctors will work with a trusted surgeon to place your implant. After your implant has fully integrated with the jawbone, one of our doctors will use our advanced CEREC technology to manufacture your custom crown, which will be placed at our Columbus office.
Dental implants are placed during a minor surgical procedure. Once you have received local anesthesia (and sedation, if necessary), your oral surgeon will begin by making an incision in your gums to access the jawbone. Next, a small hole will be created in the jawbone, and the implant will be inserted. Your incision will then be sutured closed, and guaze will be placed over the surgical site to control bleeding. It can take three to six months for the implant to fuse with the bone tissue. Once this process is complete, you will undergo a second surgery in which a special connection piece called an abutment will be attached to the implant.
Once the gums have healed (usually after about two weeks), we will use our CEREC technology to take an impression of the implant and surrounding teeth in order to provide your same-day custom crown.
Why Choose Columbus Aesthetic & Family Dentistry?
The health and appearance of your smile matter. Your oral health has a significant influence on your overall health, and an attractive smile can give you confidence while making a positive impression on everyone you meet. Your smile deserves outstanding care from compassionate professionals.
Dr. Helton leads a talented and friendly team that will listen closely to your needs and goals and support you from treatment planning to recovery. Our practice has served Columbus since 1970. Many of our patients choose us because our clinic is a one-stop-shop for a wide range of restorative and cosmetic treatments.
Proud to Provide Advanced Solutions
Schedule your consultation to find out if a same-day crown is right for you by contacting us online or by phone at (706) 563-3225. The doctors of Columbus Aesthetic & Family Dentistry strive to provide quality, streamlined care and will always make treatment recommendations with your best interests in mind.